This site was developed to offer a resource that will make you familiar with the operations of our office and add an additional portal for public access to public records.

We hope that you find this tool useful and encourage you to check back with us as we add more features in the future.




The Clerk of the Courts for Wakulla County, Florida is a duly elected Constitutional Officer as mandated by Article V, Section XIV of the Constitution of the State of Florida. The electorate of Wakulla County elects the Clerk to a four-year term. Pursuant to provisions of the Florida Constitutions, which have governed the people for over 150 years, the role of the Clerk of Courts was established in three main areas:
Clerk of the Circuit and County Courts,
Clerk to the Board of County Commissioners, including serving as accountant, auditor, and custodian of county funds,
County Recorder.
Within these areas, the Clerk of Court as an elected public trustee sets in place at the county level a system of "checks and balances" which has been proven to serve the public well.
Exxon Mobil Notice of Claim
Recently our office received and recorded a Notice of Claim and subsequently, a related Withdrawal of Notice of Claim.  The filer of these two documents was Exxon Mobil Corporation.  We also mailed copies of these to the affected property owners as required by Florida Statutes.
If you are searching our website for information related to these documents, we offer the following:
Our role is custodian of the Official Records  and we are charged with specific responsibilities under the Florida Statutes, which is why we recorded and mailed the copies.
We cannot interpret the information that is contained in the document and what effect, if any, there is on your property and your rights.
Because this is a very specialized area of the law, not all attorneys have expertise in this area.  If you have questions, we recommend you speak with an attorney that specializes in real estate matters. 
You may wish to review your title insurance documents and speak with a representative of that company regarding this issue.
The Tallahassee Bar has a referral service one can use when seeking attorneys with specialized knowledge or certifications.  This can be by phone (222-3292) or via their web site.
Thank you for understanding our role in this matter.

Jury Scam - Don't become a victim!!

Please be aware that a jury scam has resurfaced. Con artists call victims, who are told they missed jury duty and face arrest. These callers pose as either law enforcement officers or court employees, and are demanding payment of a hundreds of dollars immediately. Victims are being advised to purchase a prepaid credit card, call a designated phone number, and read off the card number.

This is a horrible scam! These victims never were summonsed, to either local or federal court. No one from the Wakulla County Courthouse or Sheriff's office will ever call you and demand immediate payment and catch you off guard or pressure you. If you receive such a call, hang up immediately. You can contact the Sheriffs Office at 850-745-7100 to report this or any related type incident.
DO NOT BECOME A VICTIM!

Volunteer Program

The Wakulla County Clerk's Office is accepting volunteers for various special projects on an on-going basis. This is a great opportunity to give back to your community while becoming involved in a progressive office environment. Hours are flexible and range from a minimum of 4 hours to 30 hours per week. We offer a clean, wholesome atmosphere to work in, a lot of great fellow employees to work with and the finest customers in the state to serve! If you're interested in working for no pay but lots of praise please call the Clerk's Office Administration at 926-0342.

Special Announcement

Problems with e-filing court documents in our County? For requests for service or support by Attorneys, Paralegals, or others in the General Public, please direct your questions to the service desk at: support@mycourtaccess.com or by phone at (850) 577-4609. Please do not call our office on these matters and thank you!

E-filing orientation and information for new filers and well as other filing information is available at this link:

For manuals, videos and other materials to assist in the e-filing process: Florida Courts E-Filing Authority website



New Policy
Postage not Supplied for Return US Mail~2012

Board Meeting videos on YouTube

For attendee disability assistance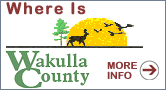 Under Florida law, e-mail addresses are public records. If you do not want your e-mail address released in response to a public-records request, do not send electronic mail to this entity. Instead, contact this office by phone or in writing.