Where is Wakulla County?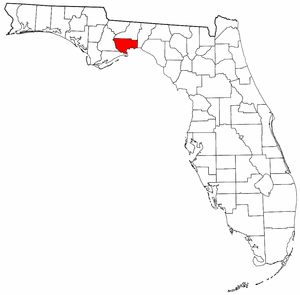 Wakulla County is in north Florida and is bordered by the Gulf of Mexico, and by Franklin, Liberty, Leon, and Jefferson counties. The county has 34 square miles of water. The average January temperature is 54.2 degrees F, and the average August temperature is 81.4 degrees F. The average annual rainfall is 54.03 inches.
Wakulla County was established from a portion of Leon County in 1843. Wakulla, also the name of an enormous spring and river in the county, is probably of Indian derivation. It may contain the word kala, meaning "spring of water" in some Indian dialects or wahkola, meaning "loon" in Hitchiti, a language of the Creek Indians.
In 1993, 95% of Wakulla County's population was in unincorporated areas. The place with the greatest population is the unincorporated town of Crawfordville, which is also the county seat. Next in population is Panacea, followed by the incorporated city of Sopchoppy (398 persons in 1993) and the town of St. Marks (303 persons in 1993). In 1993, 86% of Wakulla County's population was white, and 14% was nonwhite. In 1990, 0.6% of the population was Hispanic. Of the population increase between 1980 and 1990, 77.3% was due to net migration. The 1992 birth rate was 14.4 live births per 1,000 persons, and the 1992 death rate was 8.1 deaths per 1,000 persons. In 1992 the infant mortality rate was 9.4 per 1,000. The leading causes of death were cancer, heart disease, and diabetes.